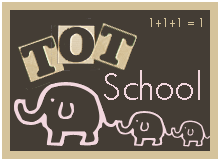 Vicki is 32 months old.
I finally found a way to have uninterrupted quiet time to work with Vicki on Tot School activities - do it before Georgie wakes up. I don't know why this didn't occur to me before. He usually sleeps at least 30 minutes to an hour later than Vicki does, at least on the weeks where we don't all have to get up to take Stephanie to school. So, here we go with our first Tot School activities. Vicki is showing a lot of interest in George's reading activities so I'm starting
The Reading
Lesson with her (sort of). We're doing the letter C (Lesson 1 of
The Reading Lesson
covers c, o, a, t and s).
She did a letter C search. I saw this idea on
Confessions of a Homeschooler
(probably other places too but I'm pretty sure I saw it there first). I made up my own sheet so the letter we were working on would match the theme we were doing. I put a couple Easter Egg graphics (from Word Clipart) in the place of some letters. Vicki had a really good time doing this. She did better with the circling than I thought she would. After finding the C's, she went through looking at other letters and tracing them while singing the appropriate lines from
Leapstart Letter Factory DVD.
I pulled out our Sensory Bin (for only the second time - see 5 Senses lesson). I had taken Easter Egg foam stickers, put two of them back to back and wrote letters on them - Capital letters on one side and Lowercase on the other. I have an aversion to spending a lot of time printing, laminating and cutting out things related to a theme (since they may only be used once) so this was a lot easier with a similar result. Vicki had a great time with this. She'd pull out an egg, read the letters, then bury them back in the rice. After a while, she pulled all the letters out, piled all the rice in the middle into a "big castle tower", then smashed it flat again.
She played with rice and eggs for over half an hour. I really wish I had started with these earlier since it's not nearly as messy as I thought it would be. I use a 15 Qt storage bin and filled it about 1/3 of the way up with rice (it took about 1/3 of a 25 pound bag of rice). I put in down on a towel to help contain any spills but she's actually been very good about not scattering it around. I do plan to eventually color some rice to make it a little more interesting.
After the rice, we did a number chart printed from
Confessions of a Homeschooler
. We used small foam Easter Egg stickers (without removing the backing paper) and put the correct number on each space. We only did 1 through 6 since Vicki still has a lot of trouble with numbers (letters and their sounds came much easier to her). She liked it enough to do it twice.
We then used these stickers to outline a letter C. She only did about 1/2 of the letter before deciding she was done. By this time, Georgie had woken up and she was more interested in playing with him then doing school.
It was a beautiful, sunny Spring day so we took a Nature Walk after lunch. We bought along our magnifying glasses to take a closer look at things like our forsythia bush, bugs, rocks, etc.
Vicki's favorite thing to explore by far was the numerous puddles and streams of water flowing through the neighborhood after all the rain we've been having. I started off telling her to stay out of the water but everytime I turned around to tell Georgie to slow down and wait for us or hurry and catch up (for some reason my kids can never walk together) she'd immediately make a beeline for the nearest water (and there was A LOT). I finally gave up stopping her. It was a warm day (they ended up not needing the sweatshirts) and she was wearing canvas sneakers so they were pretty easy to dry out once we were home.
Visit
1+1+1=1
to see what other Tot's are doing in Tot School.